Unlimited Japanese Pokémon-e Series 1
Prices skyrocketed a couple of weeks after I picked up my third copy, with a single raw Pichu selling on Yahoo! Japan Auctions for ¥267,000 (~$2,492), the highest a Pichu card had sold for publicly. What do we know about this obscure and - until recently - under the radar release?
Table of Contents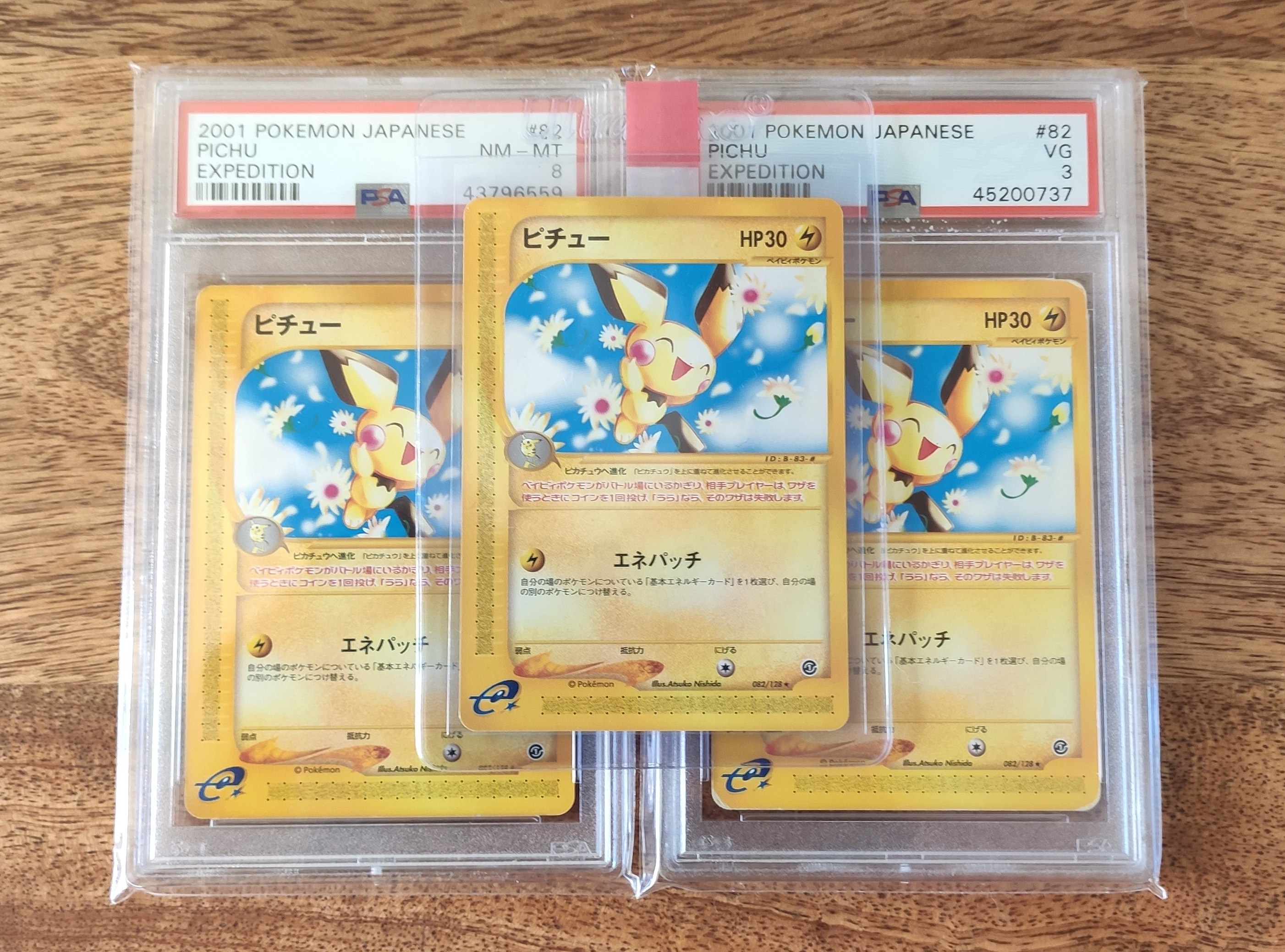 I first learned about these cards from a thread posted back in May 2017 on Elite Fourum by member unlimited_spaghetti titled Japanese Unlimited E Series 1 Cards (Base Expansion Pack).[1] In the the couple of months after that post was made it started to become clear that with the exception of both Charizard and Pichu, all of the cards appeared to match those usually found as 1st Edition in Japan's Pokémon-e Starter Deck.
2002 Shogakukan Spring Break Illustration Contest
This was further cemented when unlimited_spaghetti shared a link to a tweet posted by Japanese Twitter user にるよめ@CGF which had been posted 5 months before the Elite Fourum thread had been created.[2]
In this tweet was a scan of a section of a 2002 CoroCoro Comic page which featured a stock image of an unlimited Pokémon-e Starter Deck Typhlosion alongside a pecuilar Pokémon-e Starter Deck with red text and a Great Ball instead of a Poké Ball: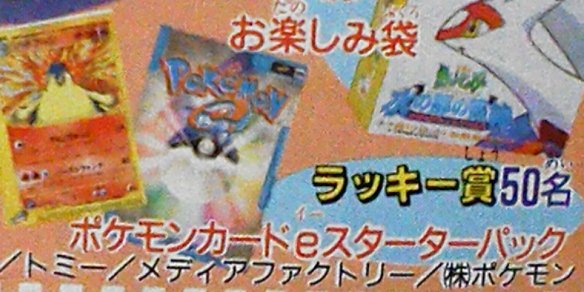 After a bit of research (and thanks to Japanese website zoidsland which has a load of CoroCoro Comic scans), I managed to pinpoint that this was from the April 2002 issue.[3] Readers were given a template featuring Pikachu, the Pichu Brothers and Wynaut and were tasked with colouring and extending the template and sending their design in to win one of 4 possible prizes:
Highest award (1 person): Game Boy Advance;
Outstanding performance award (10 people): Latias and Latios gift bag;
Special award (30 people): The Guardians of Altomare DVD;
Lucky award (50 people): Pokémon-e Starter Deck.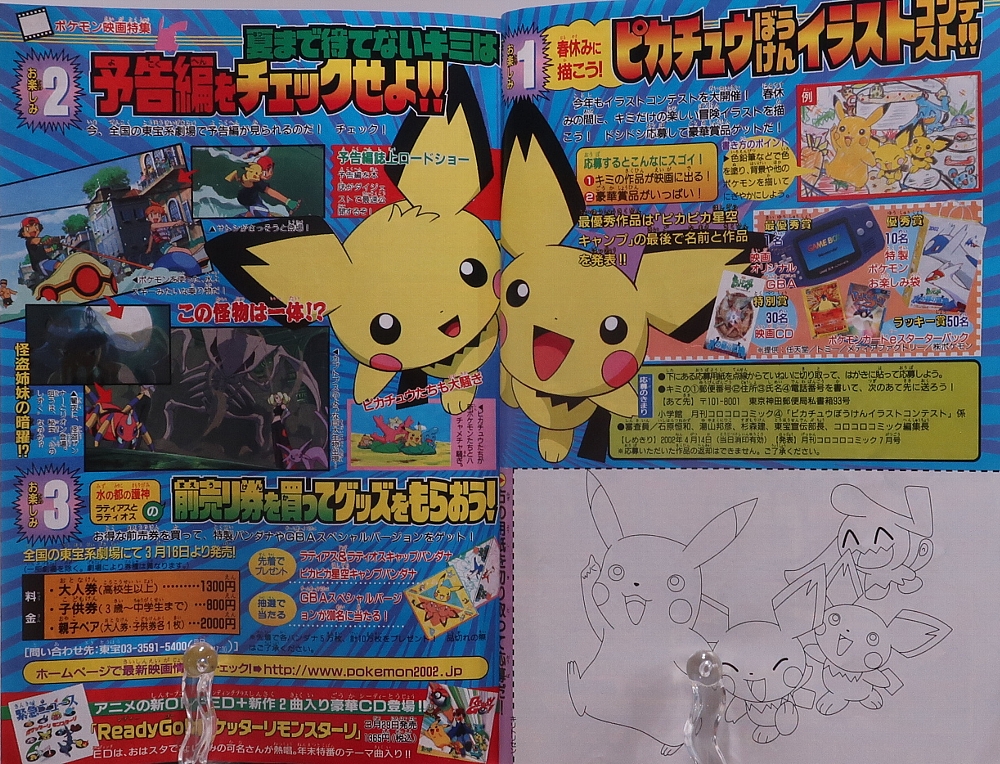 The July 2002 issue of CoroCoro Comic revealed that the winner of the Game Boy Advance was Hokkaido / Marie Takeda (北海道 / 武田 万理恵さん), although it didn't mention anything about any other of the runner-ups.[4]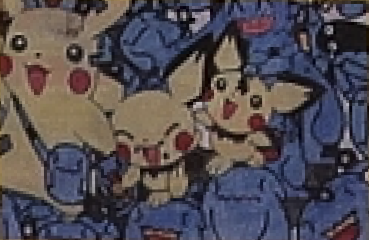 It's worth noting at this point that almost all stock images of Japanese cards from both the Pokémon-e Starter Deck and Base Expansion Pack were unlimited variants. There is no proof that the box awarded by the 2002 illustration contest had unlimited cards in, however the contest did take place 5 months after the set had originally been released, making it a very strong contender.
Whilst this box may explain the cards usually found in the Pokémon-e Starter Deck, it didn't explain the Charizard or Pichu card which weren't found in this set.
Pokémon Center Learning Event
Most of the time when these cards appear for sale on Japanese auction websites they appear bundled in with lots of other cards and the seller is seemingly oblivious to them being anything special.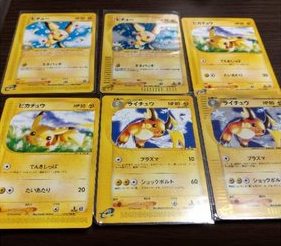 Occasionally sellers will be aware that they're rarer than their 1st edition counterparts and will specifically mention that they have no 1st Edition mark (1EDITIONマークなし). It's probably important to note at this point that unlike in English, Japan doesn't use "unlimited" to describe cards which do not have a 1st edition stamp. Unfortunately, these sellers tend to provide no other information about where they may have acquired the cards to begin with.
There was one sale of an unlimited Charizard on Mercari back in 2017, however, which did give us some information. The listing itself is now long gone from Mercari's website, but a translation of the description was provided by Japanese Elite Fourum member KEI:[5]
An event to teach how to use Pokémon Card e at the Pokémon Center was held. Unlimited E Series 1 was distributed on the last day of the event.

— Mercari unlimited Charizard description (translation by KEI)
Whilst that is really useful information, it doesn't really tell us what was distributed. The sale was for a Charizard, and it had previously been speculated that this was a card given to staff members at such an event. But what of the Pichu card?
Cards which have Surfaced
As a Pichu collector I spend significantly more of my time searching for Pichu than any other card. Including the 3 I own, I'm currently aware of 20 different unlimited E Series 1 Pichu cards in the hands of collectors. It may be confirmation bias to assume that these are more common.
I'm continuing to update the list below whenever I see a new copy appear for sale. I'm currently aware of the following:
Pokémon-e Starter Deck
002/029 Bulbasaur - 3 (image)
005/029 Chikorita - 9 (image)
009/029 Charmander - 1 (image)
010/029 Charmander - 3 (image)
011/029 Charmeleon - 8 (image)
013/029 Cyndaquil - 7 (image)
016/029 Typhlosion - 2 (PSA has supposedly graded 2 of these)
022/029 Totodile - 5 (image)
023/029 Croconaw - 3 (image)
024/029 Feraligatr - 4 (image)
Base Expansion Pack
016/128 Pikachu - 5 (image)
028/128 Clefairy - 9 (image)
029/128 Meowth - 4 (image)
079/128 Charizard - 18 (image)
082/128 Pichu - 21 (scroll up)
Note that the Pikachu, Clefairy and Meowth are also from the Pokémon-e Starter Deck. These are usually randomly chosen (as 8 of 32 possible cards).[6] It is interesting that we've only seen 3 of these cards and they're all the same kind.
What about Ponyta?
The Japanese Ponyta card from this set was released in unlimited form as an insert in widely-distributed Info Pack volume 4. It is the only unlimited Pokémon-e Series 1 card we have definitive proof of its source, and in reality it's actually pretty common.
Conclusion
Most of these cards were likely from an unlimited Pokémon-e Starter Deck box. If the Shogakukan illustration contest awarded 50 of these unlimited boxes and there were no other boxes distributed, it could be said that only 50 of each of the cards exist as that would match the contents of the regular box.
There's still no solid proof of where the Charizard or Pichu came from. Often when they come up for sale from sellers who know of their rarity, those sellers also have cards from the Pokémon-e Starter Deck as well. This implies that they were likely awarded at the same time. Perhaps Shogakukan distributed those alongside the unlimited boxes? Perhaps the unlimited boxes were also from the same learning events and not from the illustration contest at all.
What is for sure is that until an unlimited box appears - which may ever happen - we'll likely never know.